Angela Lennox, DVM-Practice Owner
My path to exotic pet medicine was a bit unusual-I always pictured being in Critical Care. In high school I was coming home late from my job at an emergency veterinary hospital and came across a dead mother opossum in the road-and her 8 live youngsters. I picked them up and called a wildlife rehabilitator-who insisted that I become her assistant and learn to raise them myself! Over the next few years my father built enclosures for birds of prey, squirrels and all kinds of injured and orphaned wildlife as I learned from her and earned my own rehabilitation license. In vet school I was taught by a woman running what we think was the very first all avian clinic-after one year in canine/feline practice I went to work for her. It's been an amazing road from a 3-person clinic in an 800 square foot store front the business it is now. After more than 25 years I can't believe I get to come to work and do THIS job!
Samantha Swisher, DVM-Associate Veterinarian
I didn't have any exotic pets (except hermit crabs) growing up, but I was always first in line to take home classroom pets over the holidays. I decided to become an exotics veterinarian in vet school when I fostered and ultimately adopted a pair of rabbits. As is always the case with vet students' animals, they had lots of medical problems over the years and I learned first-hand how hard it can be to find care for non-traditional pets. After I graduated, I spent a year working in a large dog and cat referral hospital in Maryland before going to NC State's Veterinary Teaching Hospital to start my specialty training in exotics. I completed my training with a residency at AEAC and liked Indiana so much that I decided to stay! I believe that all animals deserve high-quality care and enjoy being part of a specialty in which the standard of care is advancing every day.
Taylor Lewis, DVM-Exotic Companion Mammal Resident
I was one of those kids growing up who always wanted to be a veterinarian, even before I really knew what it meant. It must have been all the time I spent at the Indianapolis Zoo! Once my pursuit of being an Olympic volleyball player was no longer a reality, I focused on my studies while garnering experience at a veterinary clinic in Broad Ripple. Looking back over the course of my career, I've had the opportunity to travel to various parts of the world, but I have always returned to Indianapolis when the time was right. Now I share a home with a feisty Lionhead rabbit named Bailey, and the occasional rabbit foster. Each day at Avian & Exotic Animal Clinic, I look forward to sharing my knowledge with clients, helping to heal their loved ones, and working on the most interesting cases. I also enjoy teaching and mentoring the nursing and veterinary students who choose to spend their time training with us.
Cori Lennox, Practice Manager
Growing up on the Lennox Farm meant animals have always been a huge part of my life. From Phoonie, the rescued bantam rooster my mom brought home from vet school to my mini zoo now, I have (almost) never been without animal companions! Even being surrounded by veterinary medicine and exotic critters, I never imagined I would be part of the team someday. I studied forensics, law and society, and psychology in university and hoped to go on to become a crime scene analyst or forensics specialist. After graduating, I stepped in to help out at the clinic while we were short staffed, but never intended to stay long term. Ten years later, I am still here and now I can't imagine doing anything else! Every day, I get to be part of this amazing team striving for the best care possible for exotic pets and working to make sure they and their human companions have everything they need to thrive.
Sarah Dehn, RVT-Veterinary Nurse
I became a veterinary technician because I was interested in medicine and science but also wanted to help animals. My interest in exotic pets startedwas when I adopted a pair of rats. I had never had a pet other than dogs, cats, or farm animals before. At first, I was afraid of them, but within a month I was absolutely in love with the species and have had a mischief ever since! My husband and I share our home with many animals including dogs, cats, rabbits, rats, guinea pigs, snakes, and parrots.The thing I like most about my job is that it doesn't feel like a job. I love going to work every day, interacting with a wide variety of animals, and learning new things. Outside of work, I enjoy being out in nature, learning new things, spending time with my husband, and sleeping.
Casey Gardner, RVT-Veterinary Nurse
I chose to become an RVT because of my love for animals and my desire to work with non-traditional pets and wildlife. It is very rewarding to come to work every day and know that you made a difference, no matter what you did that day. One of the things I love most about my job is the opportunity to educate pet owners, and be there for them and their pets during a difficult time. It is important to me that our clients know as much as possible about the needs and health of their pet, so that we can work with them to provide the best possible care. Patient comfort is one of my top priorities, and I try to think of every patient, and boarding guest, as if they were my own pet. I have owned various species myself and have been through the ups and downs of pet ownership, as have most of us here at the clinic. Working at the clinic also provides an opportunity for me to help injured and orphaned wildlife, something I have always been passionate about. It's been a privilege to work with great wildlife rehabilitators and have the opportunity to save animals that otherwise wouldn't have made it. It's so rewarding to hear from the rehabber that the wildlife hawk that went through a fracture repair surgery has been released! I'm very proud to work in a clinic that strives to provide the best possible care for their patients every day.
Amanda Long, RVT-Veterinary Nurse
When I was a little girl, I always felt drawn to pet every dog that I came across. Unfortunately, this was not without an occasional bite, but regardless I knew that my love for animals would always be a part of who I was. My career in veterinary medicine began in March 2015, when I was hired at a local dog and cat veterinary practice as a veterinary assistant. At that time, I had no veterinary schooling or credentials, so I was job trained by the veterinarian to help handle patients and collect lab samples. In August 2016, I enrolled in the Veterinary Technician program at Macomb Community College in Michigan. I graduated with honors from that program in May 2018, which is an accomplishment I am continuously proud of. While in school, I accepted an internship at an exotic animal clinic in Utica, MI, and I have been hooked on exotic veterinary medicine ever since! My family consists of my fiancée and our two dogs Cisco and Koda; a rambunctious Border Collie and a relaxed Chow Chow mix. I love my dogs in the same way a mother loves her children, so my overall goal during each patient visit is to treat every patient with the same amount of care and compassion that I would want my dogs to receive, regardless of the patients' species or size. For me, being a veterinary technician is fulfilling because I am able help animals by utilizing my technical skills, as well as share my knowledge with our clients so that they may better understand and care for their exotic pets.
Hayli Faust, RVT-Veterinary Nurse
As far back as I can remember, I've always adored animals and spent most of my childhood asking strangers if I could pet their dogs. I was truly blessed to be able to complete an externship at AEAC prior to receiving my RVT license, and I've been here ever since. I have a strong interest in wildlife rehabilitation; one day I hope to use my RVT skills to treat and care for injured and orphaned wildlife. I currently share my home with two dogs, two cats, a rabbit, two chinchillas, five guinea pigs, and a cuy. I spend most of my time trying to deter people from buying pets through pet stores (adopt, don't shop!) and attempting to overcome my (healthy) fear of snakes.
Jack Bennett, RVT-Veterinary Nurse
I have wanted to work with exotic animals for as long as I can remember. When I was in my senior year of high school, I found out that becoming a veterinary technician could help me fulfill that dream. I went to the Vet Tech Institute at International Business College and got my degree in Veterinary Technology. While in school, I started working in the clinic's boarding facility and then after graduating I got promoted to be a technician here. I love seeing the variety of patients that come in and getting the chance to improve their lives. Outside of work, my girlfriend and I manage a home of 2 dogs, 3 cats, 2 snakes, 2 lizards, 8 fish, a scorpion, a hamster, and more animals to come. We always prefer to rescue animals and give them the loving home they deserve. I love working at the clinic because I get to spend the day helping animals with amazing people who have become second family to me.
Brianna Manns, RVT-Veterinary Nurse
I have recently graduated from the Vet Tech Institute of Indianapolis and started working as a veterinary assistant last fall. I chose to work in exotics due to my love for reptiles and other exotic species and I really enjoy the variety of animals we get to see here at the clinic. Ever since I was young, I have wanted to work in veterinary medicine. Growing up most of my pets were reptiles with the first ones being a pair of aquatic turtles named Squirtle and Blast. I currently have a Chihuahua named Tater Tot and 6 reptiles including a Leopard Gecko, Bearded Dragon, Blue Tongued Skink, Sand Boa, Western Hognose Snake and a Blue Iguana. Each one has such a distinct and funny personality! Azul my Blue Iguana is the newest member to the family and I am slowly earning his trust, for me it is a very rewarding experience interacting with each unique individual. My goal for each patient is to provide excellent care to keep each one happy and healthy during their stay with us and at home
Lorelai Gading, Client Care Team Leader
I love customer service, and have been working with people and their animals for over half of my life! My favorite aspect of my position here at Avian and Exotic is being able to give a personal touch to each individual experience our clients have when they visit the clinic by getting to know them and their families. My favorite place in Indy is actually Crown Hill Cemetery, it's so big it's like a park! I have a wonderful husband, and together we have 2 dogs; Rosie and Marahute, and 4 cats; Archimedes, Gidget, Moses, and Salem. I love to spend time outside working in the garden or wandering through the woods. The people I've met working at Avian and Exotic Animal Clinic have made a significant impact on my life, and I one day hope to help with wildlife rehabilitation as well as the people and pets here at the clinic. I could not have found a more fulfilling and fun place to spend my time!
Natasha MacDowell, Client Care Team
Growing up, I watched more Animal Planet than cartoons. I always knew I wanted to work with exotic animals. My parents raised me to love all animals, even putting aside their own fears to allow me a tarantula. As a kid, I dreamed of being the next Steve Irwin or Jeff Corwin. Now as an adult with a degree in biology, my dreams have changed but my passion for animals has not. I wish to one day go into wildlife rehabilitation so I can continue to help exotic animals in need. Outside of work, I live with my boyfriend and our cat Floofus. He is an orange fluffy cat with the sweetest attitude. In my free time, I like to paint and play games with friends. I chose my job because it marries my love of animals and my passion for helping those in need. I love what I do, the people I work with, and our wonderful clients and patients. I couldn't ask for a better job!
Vanessa Shockley, Client Care Team
I am the proud wife and mother of two lovely daughters and soon to be four grandchildren. I have spent the majority of my life working in customer service focused jobs and I love the face-to-face and over the phone interaction with people. This July will be my first year with my new family at Avian and Exotic Animal Clinic and I love my job! The interaction within the team, with the wildlife rehabbers, with clients, and especially with the pets makes this job so exciting and educational for me. I grew up loving traditional animals and anyone that knows me found it hard to believe that I would work at an exotic animal clinic and even own an exotic pet. I now share my home with a Macaw name Juleo and I love him! I have learned so much working here and I love to tell others how much love and care our team puts into all of our patients and into helping their owners. Working here has changed my perspective in life, how I see exotic animals and how I see my future. I've seen that compassion is for everyone and that each pet is unique with their own personalities. My Juleo is hilarious and if it were not for this team, I am not sure if I would have such a pet.
Ross McMichael, Client Care Team
My journey to Avian and Exotic Animal Clinic has been a search for peace of mind. After tiresome work in food service, and a dreadful experience working in a twenty-four hour dental clinic, I knew it was time for a change, but I didn't know what. When my best friend, Sadah, first told me about an opening for a client care position at her clinic, I didn't know what to think. I had never been an animal person. Would I work well with these people? Would I make any sort of difference to them? What can I offer? The people at Avian and Exotic Animal Clinic took me at face value. It really is amazing when a group of like-minded people with one common goal can come together to make something life changing. I knew right away, from the moment that I first met Lorelai and Dr. Lennox, that this was the place for me. Through communication, dedication, compassion, and quality assurance, AEAC staff let me know that this was definitely the place I wanted to work; the right environment for me. I am so proud to be a part of the Client Care Team at Avian and Exotic Animal Clinic, helping to support the best veterinary team around. Each day for me is a new learning experience and I truly appreciate the opportunity to utilize my customer service talents while adopting a whole new area of knowledge. When I'm not working, I'm a student at Ivy Tech Community College in Indianapolis, studying liberal arts such as history, rhetoric, political science, and letters. In my spare time, I can be found doing my research, writing, and enjoying the wonderful world of the theatre. Also, I was told I would fall in love with at least one kind of critter once I joined the AEAC family, and I'm definitely enamored with ferrets.
Jess Backherms, Boarding Team Leader
I got my first experience with animal care when I was a little girl growing up in a rural area with several outdoor cats. One day, one of the cats turned up at the back door with a "present", an injured chipmunk. I took it upon myself to find a local rehabilitator who would take him and nurse him back to health so he could be released it back into the wild. Ever since that experience, I have dreamed of becoming a veterinarian and helping out all of the animals who can't help themselves. I am currently finishing up my undergraduate education at IUPUI and am hoping to continue studies at a veterinary school in the future. I am the proud adoptive mother of Kiki, a sassy hedgehog that I rescued through EARPS. When I'm not at work or studying, I enjoy running and trying out new restaurants in Indy!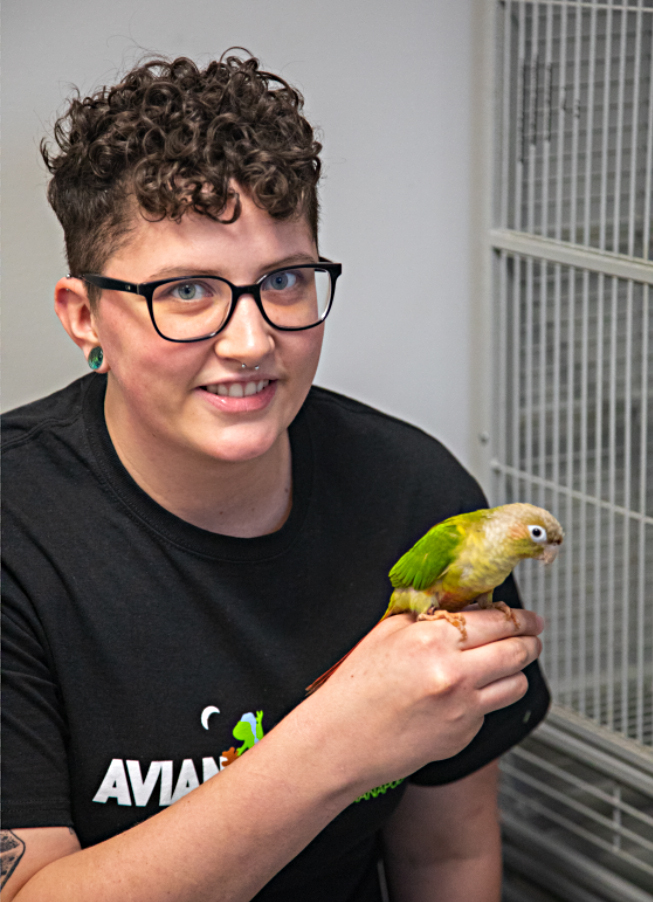 Danielle Leverett, Boarding Assistant
I have always wanted to work with animals. Being an assistant allows me to care for animals as well as learn new things about hospital patients every day. I always want to learn more about animal care and rehabilitation. Knowing I can provide a safe and happy place for pets while their owners are away makes me enjoy my job every day. I recently graduated college with a bachelor's in biology and I plan on going to school to do something along the lines of rehabilitation work or possibly vet tech. I have always had lots of pets in my house growing up such as rats, hamsters, dogs, guinea pigs, and ferrets. I have lived in Indianapolis all my life but would like to live somewhere more south someday. In my free time I enjoy spending time with the people I love and relaxing to some Netflix.
Brenia Sokol, Boarding Assistant