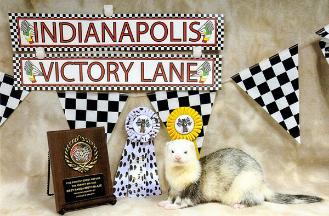 It's Time Again for the Annual Ferret 500 Show and Exposition!!! Avian and Exotic Animal Clinic is sponsoring this wonderful event, and we'd love to see you there.
Join us on Saturday June 3, 2017 - Open to the Public 10:00 am until 5:30 pm.
A ferret show is a lot of fun for participants and observers alike. You can learn about interesting ferret coat colors, watch the ferret costume contest, find out the difference between jills and hobs, talk with ferret enthusiasts from around the United States (and even England!!!), shop for fabulous ferret items and other supplies from the vendors.
Avian and Exotic Animal Clinic will present "Ask the Vet" from 11 AM to noon, and 1-2, with a presentation on Updates in Ferret Diseases and Surgeries from 12pm-1pm.
Admission/ Donation will be charged at the door for non-exhibitors.
- $5.00 for adults
- $2.00 for children 7 to 15 yrs.
- Under 7 free with paid adult.
If you have never seen a ferret show, this is THE place to be!